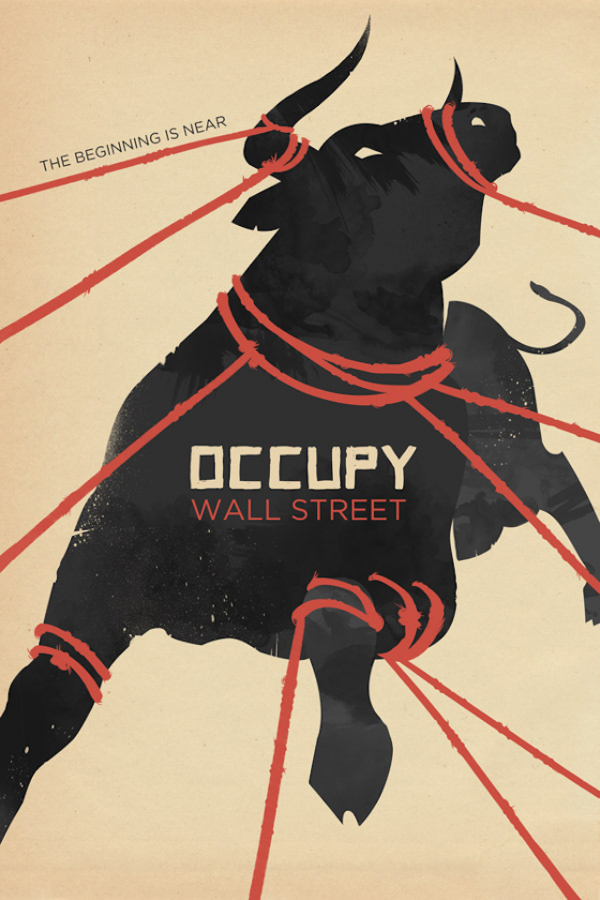 Guest Blogger Dan Beckmann says 'OCCUPY, CREATIVELY.'
The good news? Over the course of the last generation, there's been a ton of money to be made as a 'creative.'  Jobs for filmmakers, designers – and just about everyone who ever went near an art school – have gone up in numbers, as has the pay for creative work.
The bad news? What was for so many a personal journey has now been co-opted by corporate interests. And of course, the old necessity to put food on the table.
Nonetheless, it's hard to complain. Even just a decade ago, going to film school was thought of as a joke. Now, a film school graduation can place you solidly into the middle class. But, at what creative cost? What exactly are you making?
Unless you're part of the old school, old money trustafarian class, as an artist you're probably still part of the 99%. Accordingly, many of us are intrigued in some regard by the Occupy Wall Street protests.
Here at Schmooru – a company I co-founded and help run – we have an office right near Wall Street. In fact, some of the people we rent office space from helped to start the New York General Assembly (how OWS is governed). My colleagues and I certainly didn't start the fire, but we have watched it spread from something that seemed like the 'same old protest' to a worldwide phenomenon that has captured a sweet spot of relevance and popular attention.
With the high amount of local occupations there has been an incredible demand for creative work. Since there are no conference rooms or corporate overlords, this demand might hearken back to the days when most 'creatives' were stacked firmly towards the bottom part of the 99%, doing it for the love of it or – heaven forbid – for the sake of the message.
In New York the way the movement has resonated with artists has been distinctly noticeable. Musicians on the subway have gone more political. Well known artists like Shepard Fairey have joined the mix. Posters have appeared. Logos. Stickers. And the creative brainswarm around the events has inspired tons of people you haven't even heard about yet. One gets a sense of the sheer scale of the influence through the magic of the internet (check out Occuprint, for example). And what does this new creative thunderbolt look like? It looks homemade, and angry, and honest.
Occupy, itself, yearns to take over the cultural narrative, and in my opinion it's about time. Its only a matter of months before the corporate overlords start to non-ironically create art, film, and probably even advertising that visually reflects this subversive nature. But tonally, we better make sure to learn how to smell a rat.
So: Watch out for the ersatz hand-spun, keep an eye out for the hidden intentions of the too slick protest t-shirt, and – most importantly – keep occupying, creatively. Do it for your future as a citizen, and do it because in your visual or filmic act of protest, you are always going to be more original than you think.
Dan Beckmann is co founder of Schmooru, a community of creatives from around the globe with the purpose of making their world a better place.  They are presently running the Art as Life project, a disruptive endeavor intended to force art into everyday life. For more information on how to get involved please go to schmooru.com/art-as-life