About the Film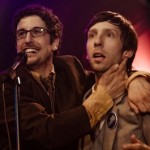 There's no family dog strapped to the roof of his car, but political candidate Grant Cogswell has his own set of image problems, starting with the fact that he likes to dress up as a polar bear and he's currently an unemployed music critic. In Stephen Gyllenhaal's bittersweet, uplifting comedy GRASSROOTS – based on the true story of the 2001 Seattle City Council election – Cogswell becomes a mono-maniacal man of the people, rallying an unlikely posse of misfits, slackers, and square pegs to his seemingly hopeless David-and-Goliath battle against a firmly entrenched incumbent.
Before the Occupy Movement there was Grant's fervent pitch to the Emerald City's downtrodden hipsters and idealists – to stand up for what they believe in, to take back their city government, to build a beautiful monorail that would carry them into the future, to be part of something bigger than themselves. GRASSROOTS offers an exhilarating, hilarious, bumpy ride on the political train just when we need it most, because at bottom what drives this eccentric optimist is his belief that what he is doing actually matters.
Based on the book "Zioncheck for President," written by Grant Cogswell's reluctant campaign manager Phil Campbell, GRASSROOTS stars Jason Biggs as Phil and Joel David Moore as Grant. Seattle plays itself, and the city has never looked dreamier, more beautiful, or more ripe for revolt. With Lauren Ambrose, Cedric the Entertainer, Cobie Smulders, Tom Arnold, Christopher McDonald, DC Pierson, Emily Bergl.
GRASSROOTS is distributed by Samuel Goldwyn Films.


Director's Vision Statement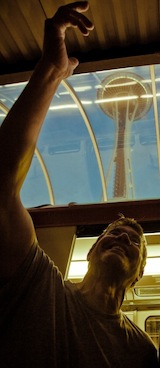 GRASSROOTS: You could say it's about Seattle in 2001, a unique city at a unique crossroads, caught between the sea and the mountains, grunge music and software, the past and the future. You could say it's about social justice, or political gridlock, or a pair of strange bedfellows who almost manage to do the impossible. You could say it's about the Monorail, that concrete ribbon that still divides the Seattle downtown sky. You could say all those things, and all those things would be true. But in the end it's a love story.
It's a love story about an impossible, socially inept music critic named Grant Cogswell. Just smart enough, just arrogant enough, just idealistic enough — and just unemployed enough — to think he can change the world. Grant loves Seattle. His passion is the monorail; he's a loud, obnoxious, true believer in a Jetsonian Seattle future of beautiful silent public transportation and unclogged streets.
To make his vision a reality, he needs to get on the Seattle City Council. It's a preposterous, unworkable idea, but somehow the power of Grant's passion develops its own gravitational pull. When he draws in his friend Phil Campbell to run his campaign, what seemed like a crazy joke becomes very real.
Recently fired, Phil comes on board because he really doesn't have anything better to do. But Grant's infectious enthusiasm wakes up something new inside him. Phil's shrewdness and his emerging political savvy, coupled with Grant's burning mono-mania, soon attract a ragtag army of young volunteers. Together they wage an exhilarating, hilarious campaign that brings Grant – a candidate who's not afraid to dress as a polar bear – to the very brink of victory.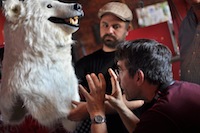 Alone, none of them could have accomplished much. Together, they are a powerful force. Along the way, Grant and Phil both learn that one person really can make a difference, and that standing up for what you believe in is a victory in itself. It turns out, in the end, that you can fight City Hall. But you have to check your cynicism at the door to do it.
It's crazy. It's true. It could only happen in Seattle. And I can hardly wait to bring this story to the screen.