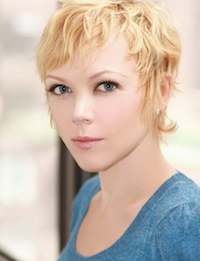 EMILY BERGL
theresa glendon
Emily Bergl is a versatile veteran of stage and screen; her career spans film, television, and theater. She won the FANY award for Best Broadway Debut for her performance in THE LION IN WINTER opposite Laurence Fishburne and Stockard Channing. An eclectic variety of television roles soon followed, including guest star turns on ER, NYPD BLUE, MEDIUM, GREY'S ANATOMY, THE GOOD WIFE, and two seasons as the malevolent Francie on GILMORE GIRLS.
While maintaining a career in film and television, Emily also worked throughout the country with such acclaimed regional companies as the Williamstown Theatre Festival, South Coast Repertory, La Jolla Playhouse, and The Globe Theatre. She starred on Broadway in Eugene O'Neill's A TOUCH OF THE POET opposite Gabriel Byrne, and in THE RIVALS at Lincoln Center (a performance the New York Times described as "infinitely nuanced"). Most recently, she appeared in Second Stage's BECKY SHAW,
a finalist for the Pulitzer Prize.
For two years, Emily played Annie on MEN IN TREES, the quirky ABC comedy starring Anne Heche. She is about to begin a third season on John Wells' TNT drama SOUTHLAND, where she plays the eccentric photographer Tammi.
When she is not acting she has a passion for volunteering, and has worked with Recording for the Blind and Dyslexic, as well as the group Read Across America. As a volunteer for Habitat for Humanity and the Jimmy and Rosalynn Carter Work Project, she has built houses in Thailand, Malaysia, and across the United States.
View