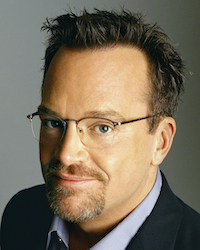 TOM ARNOLD
tommy
Tom Arnold began his career in comedy at the University of Iowa before moving to Minneapolis, where he won the Minneapolis Comedy Competition in 1988. He then moved to Los Angeles to write on the highly successful sitcom ROSEANNE, following that up with his own HBO special TOM ARNOLD: THE NAKED TRUTH. Arnold then wrote, produced and starred in three of his own television series, THE JACKIE THOMAS SHOW, TOM and THE TOM SHOW. His television work earned him the Peabody Award for writing as well as Golden Globe Awards for writing and producing. He also helped put Fox Sports Network on the map as the popular host of BEST DAMN SPORTS SHOW PERIOD.
Arnold is widely known for his comic supporting roles in such blockbusters as NINE MONTHS with Hugh Grant, Julianne Moore, and Robin Williams, James Cameron's TRUE LIES with Arnold Schwarzenegger, HERO with Dustin Hoffman, and AUSTIN POWERS: INTERNATIONAL MAN OF MYSTERY with Mike Myers.
But he has also taken on a string of more complex and dramatic roles in independent films, winning acclaim for his performance in GARDENS OF THE NIGHT, opposite John Malkovich, which received the International Critics Award at the 2008 Deauville Film Festival. Additional credits include THE GREAT BUCK HOWARD starring John Malkovich and Tom Hanks, GOOD DICK opposite Jason Ritter, and HAPPY ENDINGS opposite Maggie Gyllenhaal and Lisa Kudrow. Arnold also starred in THE KID & I, an action comedy he wrote for a 16-year-old family friend with cerebral palsy. The film was directed by Penelope Spheeris, with cameos by Arnold Schwarzenegger, Jamie Lee Curtis, and Linda Hamilton.
A native Midwesterner, Arnold established a writing scholarship and runs an acting workshop for students at the Indian Hills Community College in his home state of Iowa. He is heavily involved in many charities, including The Race to Erase MS, the Elizabeth Glaser Pediatric AIDS Foundation, and Best Buddies, a charity started by Anthony Shriver that pairs mentally challenged people with college kids and jobs. He has also made significant contributions to USO, the Special Olympics, Camp del Corazon, and Arnold's Inner City Games.
View