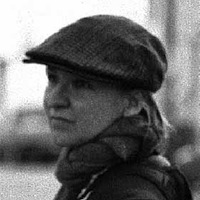 LAURIE HICKS
production designer
Laurie grew up in Oakland, California where a brief stint with theatre acting started a lifelong interest in storytelling. Laurie graduated from Seattle Central Community College's intensive Film & Video program in 2002 where she worked as a director and production designer on several narrative films and documentaries. After graduating, Laurie began working as a production manager and line producer. Due to her hard work and dedication, she garnered a co-producer credit on the films CTHULHU (starring Tori Spelling) and TRUE ADOLESCENTS (starring Mark Duplass). Laurie's short film LOVE, INC., won a Telly Award and screened at the One Reel Film Festival.
Laurie has since moved to the art department, working as a set decorator, art director, wardrobe designer and production designer on many films. Her credits include BUFFALO BILL'S DEFUNCT, directed by Matt Wilkins, GIVE 'EM HELL, MALONE (starring Thomas Jane & Ving Rhames) and THE DETAILS (starring Tobey Maguire and Laura Linney).
Laurie is interested in many aspects of film – photography, graphic design, screenwriting, apparel design, interior design and landscaping – all of which aid in translating each director's unique vision.