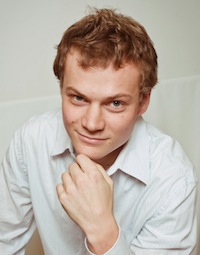 SEAN PORTER
director of photography
Cinematographer Sean Porter brings a wide range of experience to GRASSROOTS. His crafted and personal style is a culmination of over 10 years of cinematography, lighting and storytelling experience. His previous feature film, BASS ACKWARDS, directed by award-winning filmmaker Linas Phillips (WALKING TO WERNER) premiered at Sundance 2010 and received nationwide distribution. His work on the international award-winning documentary SWEET CRUDE, which premiered at the Full Frame Documentary Festival, earned him accolades in Variety. Sean has photographed music videos for artists such as The Blakes, Laura Veirs, and The Saturday Knights and his short films have been screened at SXSW, Palm Springs, Toronto, LA and Seattle.
On the commercial side, Sean has shot for Superfad, Microsoft, GLG, Three on the Tree, ZAAZ, MTV, and MSN. Sean graduated from the University of Washington with a BFA in Media Production and Design, where he returns to teach master classes on cinematography and lighting.